The following are good questions you should ask if interested in a particular handler. We have added our response to each question.
Q - Ask if your handler has a contract for you to look at. Does it state the fees, what the handler will do in case of emergencies, and what the handler is liable for?
A - We have a contract that states all the responsibilities of each party and will be signed by you and your handler. This spells out everything in black and white so there is no confusion later.

Q - How will my dog be kept during a period of time if I decide to leave it with my handler?
A - We have a professionally run boarding kennel located outside San Antonio, TX on over 100 fenced acres that is open 6 days a week. Dogs are kept in private indoor/outdoor runs, cared for and conditioned on a daily basis.

Q - How does your handler travel to the shows?
A - We travel in a customized bus. This allows us to sleep in the same vehicle with the dogs so they are attended to after showing has completed for the day. We have our own equipment to provide the best care for your dogs in all types of weather.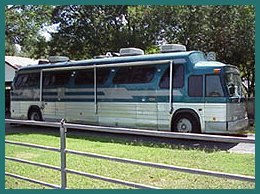 Q - Does your handler provide a schedule so you can plan ahead also? Where do they travel?
A - We have a typed schedule that we provide to let you know where we will be. We travel mainly in Texas, Louisiana, Oklahoma, Arkansas, Mississippi, and New Mexico. We do venture further for larger shows such as Westminster and various Specialties. Our show schedule keeps us on the road nearly every weekend.

Q - What kind of experience does your handler have?
A - Colette started out as a top-ranked junior handler. She has handled everything from a Chihuahua to a Mastiff with great success. She has accumulated numerous Best In Shows and has won the group with many different breeds of dogs